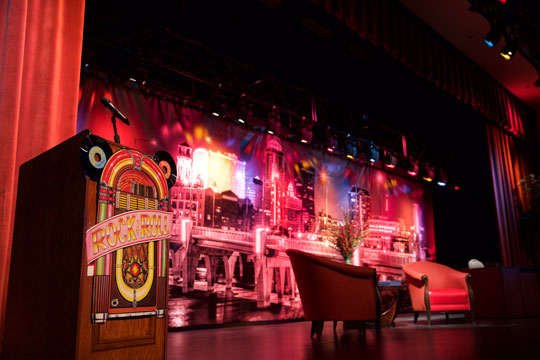 46th Annual DMAAR Banquet
It may have been nippy outside when the Des Moines Area Association of Realtors® met for its 46th annual banquet on January 22, but inside, the place was rocking with good spirit, hilarious jokes, and memorable music, along with fun fashions, pats on the back, and selfies galore. A record 640 attended the festive party at Prairie Meadows, says Cindy Pelz, executive officer of DMAAR, which is based in Clive.
The party gave members and guests an opportunity to dish, mingle, and network on the record-breaking year in real estate in the metro market and predict what is ahead.
Pelz says the event also gave the opportunity to acknowledge outstanding achievements by members throughout the 2015 business year and to celebrate sales of more than 12,000 and a record number of members, more than 2,000.
Because last year's theme of "Late Night With DMAAR®" was so enjoyable, planners used the same general theme this year, but with some variations and timely twists.
Main-stage entertainment with the "Late Night" theme featured "Tonight Show" host Jimmy Fallon, political candidates Jeb Bush and Donald Trump, comediennes Tina Fey and Amy Poehler and their surrogates. Plus, Pelz says a highlight was a parody of singer Adele's hit song "Hello," adapted to real estate lingo.
The Circle of Excellence honored five rookies, who have been in the real estate business for 12 months consecutively; unit and volume awards, along with Realtor of the Year and new leadership team for 2016. The new officers are John Dunn, president; Linda Westergaard, first vice-president; Brennan Buckley, second vice-president, and Jenn Clark, treasurer.
The annual banquet committee included Dorrance Brezina, Kim Byers, Heather Carey, Jenn Clark, Kyle Clarkson, Kalen Ludwig, Lance Hanson, Megan Hill Mitchum, Sara Hopkins, Maureen Mitchell, Amanda Nagle, and Colin Panzi.
The entire evening was a memorable affair filled with lots of laughter.
To see who walked away with an award and photos of the fun-filled evening, visit our digital edition!
---