New Integrated Mortgage Disclosures Take Effect Fall 2015
In mid-June, Consumer Financial Protection Bureau Director Richard Cordray announced the compliance date for the final Integrated Mortgage Disclosures, known in the mortgage industry as the TILA-RESPA Integrated Disclosure Rule or "TRID," would be delayed from an original effective date of August 1 to a proposed new effective date of October 1, 2015.
Even with the proposed delay, there is still much for those working in the real estate industry to learn about the new rule. "It will impact lenders, title companies, abstractors, attorneys, realtors and other settlement providers," said Julie Gliha, vice president of regulatory compliance for the Iowa Bankers Association. "There are new coverage rules, disclosure forms, fee tolerances, timing rules and regulatory responsibilities to learn." (See the following chart that provides a high-level overview of these proposed changes.)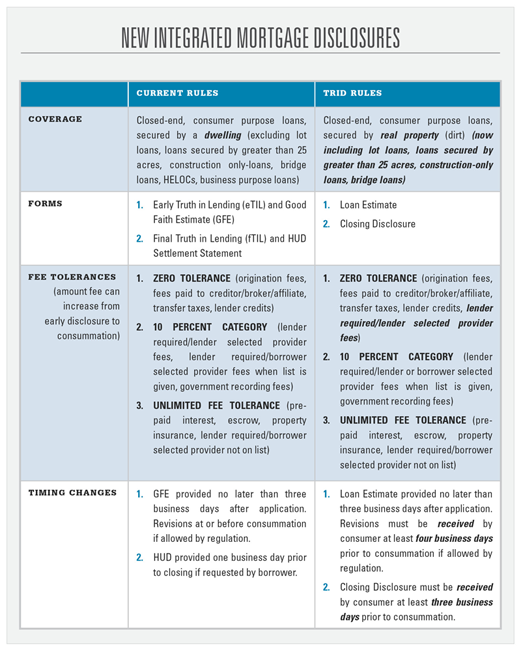 "Mortgage lenders and those involved in the mortgage process will be affected by these changes. The new TRID disclosures will be required for more loan products, making those loans subject to the timing rules for disclosure delivery. Last minute changes are a thing of the past," said Gliha.
Consumers must receive their Closing Disclosure at least three business days prior to consummation. Lender-selected provider fees are now subject to a zero percent tolerance, which means unless allowed by regulation fees cannot increase at all from the initial disclosure to consummation. Vendors of mortgage services, such as appraisers, title companies, abstractors, etc., must communicate firm pricing and notify lenders as soon as possible if fees change.
Realtors must assist the borrower, seller and lender by understanding the timing and fee restrictions and set realistic closing dates and carefully avoiding situations that could cause delays or borrower qualifications concerns. If changes occur that affect the settlement costs and lenders are not informed in a timely manner, the lender may be liable for the cost increases.
"This could have a significant impact on vendor relationships," said Gliha. "All those involved in the mortgage industry must be educated and prepared to meet these new requirements and ensure consumers' needs continue to be met."
---